Protect your investment from harmful UV, Rain, Snow, and Hail with Dome Shelter SystemsTM RV garage!
If you are looking to buy or build an awning or storage building to protect your RV consider an economical, portable Dome Shelter SystemTM. Our enclosed canvas RV garages are less expensive than traditional models, yet more protective than travel trailer awnings or simple motor home covers.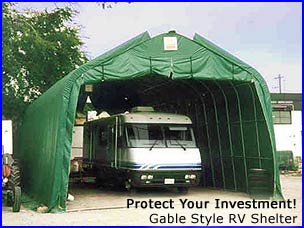 Applications include:
Portable motor home cover, awning or garage
Permanent motorhome garage or shelter
Winter motorhome storage
Travel trailer awning or covers
RV canopies, portable covers or temporary sheds
Combined boat and RV storage
Recreational vehicle awning
Remember, Dome Shelter SystemsTM has been in business for over 10 years creating top quality RV sheds. When you purchase a Dome ShelterTM, you have the peace of mind in knowing you made the best choice.
Features and Benefits:
Modular kits are prefabricated for easy do-it-yourself installation
Portable boat and RV storage requires no permits (in most jurisdictions)
The GalvalumeTM finish steel frame. Lasts 6 times longer than conventional galvenized steel. Structural warranty against defects for 10 years.
We use flame retardant fabric (to CPAI 81, NFPA 701), which is safe and meets legal requirements
5 year fabric warranty* (some conditions apply)
You have a choice of Premium VinagardTM in 11 attractive colours
Anchors & standard door in one end are FREE
Skylight option available for plenty of light
Choose from Two Styles:

Dome Style:
RV shelter sizes are typically either 12 or 14 ft. wide, by 12ft. or 14ft tall (door opening is 20-24 inches lower )
Your storage shelter should be at least 2 ft. longer than your RV

Gable Style:
Double wide units are popular for combined Boat and RV storage units.
You will need at least a 10 ft. sidewall, on a 20, 22, or 24 ft. wide unit.

Customized sizes available for any application.

We also carry garages, carports, plus hundreds of other models for all residential, commercial, and industrial applications.

Call now or request a quote online for your Dome Shelter SolutionTM!