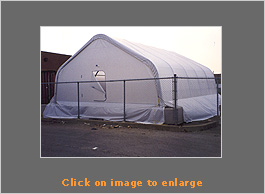 Q: How long will my shelter last?
A:
We use only top quality materials in manufacturing our shelters in order to give the longest life span possible.

The frames are made of structural steel tubes with a premium grade Galvalume™ finish covered in a special acrylic top coat. It will last 6 times longer than conventional galvanized steel, for a lifetime service.

In addition, every shape we build is engineered to withstand extreme wind and snow loads. The covers are made of a premium grade VINAGARD™ membrane with a urethane top coat for enhanced weather resistance with a 10-15-year life span.

Q: Will my shelter withstand strong winds?
A:
Dome™ Shelters are designed with unique attachment methods and materials.

Our covers attach to the shelter using a high strength NO-STRETCH, woven cord.

The cord passes through solid brass eyelets which are punched through seat belt material stress bands. This attachment is completely wind proof anywhere in the world.

A variety of different anchors are supplied for different surfaces. Whether mounted on dirt, asphalt, cement or wood, all our anchors are specified for the wind loads in your area with a 2-to-1 error margin.

Q: Can I get the shelter in a size I need?
A:
We have hundreds of different sized shelters available from our standard price list. The sizes range from 8 ft. wide up to 70 ft. The heights range from 8 ft. high to 37 ft. More important, the Dome Shelters™ are also custom designed for many unique applications, in any length required.

Q: So what is VINAGARD™ and why is it a premium fabric?
A:
VINAGARD™ is a Canadian made vinyl coated polyester fibre. VINAGARD™ is made by mixing top grade U.V. stabilized pigments with virgin Vinyl resins. This mixture is then coated on to high strength, waterproof, woven polyester. The result fabric is then coated with a washable, ultra-strong layer of Urethane.

This complex chemically engineered product has rot and mildew inhibitors, Ultra Violet stabilizers, flame retardant compounds and special high cost compounds to keep it resistant to very low temperatures.

Over 40 years experience in a high quality environment went into the production of VINAGARD™ which we can warrantee with full confidence. Standard grade Vinyls are a commodity product produced for rough and tumble applications like truck tarpaulins where finish quality is less important and rough handling makes weather ability much less important.

Q: Will you guarantee the quality of my shelter?
A:
We take great pride in producing the best quality steel & fabric shelters on the market. Every step of our production is carefully monitored to ensure that no substandard work leaves our plant. We back our quality by offering a 10 year pro-rated warranty against structural failure due to manufacturing defects or defects in material. In addition, our Vinagard™ and FRU88X Polyolefin covers come with a 5-year pro rated water tightness warrantee to help ensure your peace of mind.

* NB: contact us to find out the latest terms, conditions and warranties!

Make sure to look at our "References" list!