A dilemma faced by any successful and growing business is the task of finding the storage facilities required to not only store your inventory, but to also protect it from the elements. Dome Shelter Systems™ make this easy with a wide range of storage buildings as well as portable storage buildings that suit all needs.

Whether you're looking for wood storage, tire storage, textile storage, salt storage, road salt storage, part storage, old newspaper storage, outdoor lumber storage, glass storage, can storage or aluminum storage, we have the storage solutions and storage shelters you're looking for.

Dome Shelter Systems™ prefabricated storage buildings (pre-fab storage buildings) include wood storage buildings and wood storage units, vinyl storage buildings or vinyl outdoor storage sheds, steel storage buildings or a steel storage shed, salt storage buildings or salt cavern storage (for the storage of road salt), plastic storage buildings and an aluminum storage building.

Quality is the key for our storage building designs and storage building plans. With pre-fabricated metal outdoor storage sheds, portable metal storage buildings, metal storage sheds, storage buildings wood, or mobile storage as in a metal storage portable building, Dome Shelter Systems™ has the storage building kit to meet your storage building construction plans for any outside storage building.

Used as either a backup storage facility or as your primary storage facility, these quality outside storage buildings and environmental enclosures provide you with a fixed or a portable storage building that answers your industrial storage and supply needs. Simply put, our industrial storage units and industrial storage facilities provide you with all your industrial storage solutions for all your bulk storage and portable bulk storage requirements.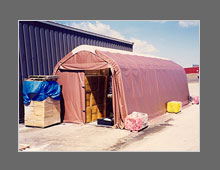 Click on image to enlarge
Features and Benefits:
Modular Kits
Built tough, using top quality components
Flame retardant fabrics
Custom sizes
More cost effective than permanent addition
Quick turn around time - quicker pay back
Add-ons:
Skylights
Heating
Ventilation
Doors for easy access