If you need work shops, you may think there are only two alternatives: buy or lease additional commercial space; or expand your current facilities. Both are very costly options. But now there's a third choice: Dome Shelter Systems!

Remarkably affordable, Dome Shelter Systems are the perfect answer to your work shop plan or work shop plans. Whatever work shop design you may have in mind, these modular units are fully enclosed with a Galvalume steel frame that can be customized to meet your specific work shop building specifications (such as a wood shop plan or wood working shop plan.)

Dome Shelter Systems are even suitable for a home wood working shop, work shed, home metal work shop or home metal shop, garage metal shop or virtually any other type of home work shop. They're ideal for shed work, shop wood work, or designing shop wood working. And, because there are a wide variety of custom sizes available, you can choose one that meets your exacting space requirements.

Dome Shelter Systems are made in Canada using top quality components.

Fast and easy to erect. So you can assemble one and put it to use in less than a day. It truly is a do it yourself work shop or building kit metal shop solution!





Add-ons:
Low cost Dome Shelters are weather tight, to preserve your valuable equipment in your home work shop
Wide selection of sizes, door options and custom-made designs means you will not be paying for a bigger structure than you actually need
Portable modular design is easy to relocate, so if you move, you can easily re-locate
Dome quality means built to last so the resale value of your Dome is preserved
When designing a workshop remember Domeshelters TM are made with "Vinagard, a durable vinyl coated polyester fiber" that has a 5 year warranty. They are reliable.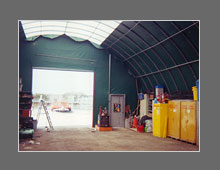 Click on image to enlarge
Application: Construction Workshop
Dome™ construction tents and equipment shelters will save you a bundle when the weather turns sour. No more headaches worrying about the condition of your equipment during poor weather conditions
Our sheltered workshops are portable, so you can take it with you when the job is over. The shelters are more economical in the long run than renting or leasing space
Portable work shelters are designed to withstand harsh weather, so your crew keeps performing, rain or shine. "No matter the weather, we'll keep you together"
Features & Benefits
Modular kits are prefabricated for easy do-it-yourself installation
Built tough, using top quality components
Manufactured in Canada
The Galvalume™ finish steel frame. Lasts 6 times longer than conventional galvenized steel.
We use flame retardant fabric (to CPAI 81, NFPA 701)
5 year fabric warranty* (some conditions apply)
Premium Grade Vinagard™ is available in your choice of 11 attractive colours
Standard Anchors and door in one end are FREE* (some conditions apply)
More economical than building