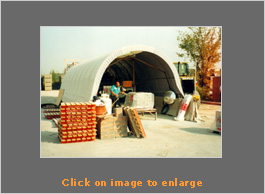 At Dome™ Shelter Systems, we stand behind our product with long term warranties designed to give you, the customer peace of mind. That's why we are confident to offer you our warranty plan as follows:

Structural Warranty:
10-Year Warranty for our Galvalume™ steel frame against defects in materials and workmanship, when used for its intended purpose. We will repair or replace at no cost to you.*

Water Tightness Warranty:
5-Year Warranty for our VinaGARDô covers and 5-Year Warranty for our Polyolefin covers to remain weather tight on a pro-rata basis.*

*Shipping, travel and handling charges may apply.