CAR WASH BUILDINGS

Existing in today's diverse environment of severe weather conditions, keeping a car clean is difficult - and a good business. At DomeShelter we have the enclosures you need to provide this service, from custom spray booths, auto spray booths, water curtain spray booths, water spray booths, open spray booths and water wash spray booths - everything to meet your carwash plans.

In starting a carwash or entering the car industry mobile wash business, planning is everything. Whether it is choosing the proper mobile car wash equipment, car wash tunnel and wash pads to picking the right car wash buildings, automotive spray booths, automatic carwash bays and proper carwash canopy. DomeShelter has everything to meet your car wash design needs.

There are many different car wash systems to consider when starting a car wash and planning your car wash construction needs. Your car wash plans may include a spray booth plan, as well as a self service car wash design and spray booth design, anything necessary for your vehicle wash systems plans.

Looking to build a car wash? Build a spray car booth? DomeShelter will help, from portable spray booths to helping build spray booth to the proper portable wash pad acquisition. At DomeShelter we are the car wash builders who will handle all your mobile car wash system needs, helping you start carwash.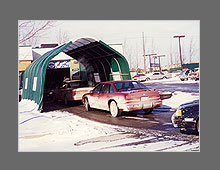 Click on image to enlarge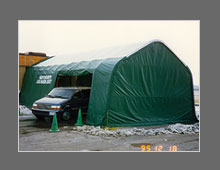 Click on image to enlarge
Features and Benefits:
Modular Kits
Built tough, using top quality components
Flame retardant fabrics
Custom sizes
More cost effective than permanent addition
Quick turn around time - quicker pay back
Add-ons:
Skylights
Heating
Ventilation
Doors for easy access