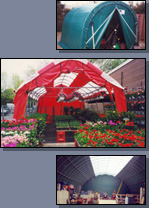 DURABLE
A registered trademark of Vintex Inc., this fabric is a 16 oz. vinyl-coated polyester, double sided with a special urethane outer coat. This fabric is resistant to cold, heat, stretching, fading, ripping, mold, mildew, fungus and chemicals.


This fabric has a flexible weave that meets stringent industrial ASTM standards for tensile, tear, cracking and burst limits.


With the incorporation of high concentrations of UV stabilizers, anti-mold and anti-fungus compounds further enhance the durability of this product.


The use of low wicking polyester inhibits discolouration of the fabric from moisture penetration.


Cover materials supplied are rip-stop in nature to minimize potential damage. Minor repair is easy.


Your dome cover will remain soft and supple for up to fifteen years of outdoor protection.
SAFE
All cover materials are flame retardant compliant to CAN/ULC-S109 and NFPA 701 flame resistance requirements for your safety and to meet Labour Board and Building Department requirements.


All seams are heat welded for added strength and ensure water-tightness to protect your possessions from water damage.


This UV protected fabric will also protect your possessions from sun damage.


No lead or heavy metals are used in the manufacturing of this fabric.
ATTRACTIVE
With its self-cleaning urethane topcoat and smooth scrim, our architectural VinaGARD

™

fabric is easily washable and custom fit to our standard frames with no slack or wrinkles.


A wide array of colours available to suit your preference and site environment. See Custom Options for details.


Ink-ready surface suitable for custom graphics and signage. Please note vinyl based inks should be tested for adhesion prior to printing.
A Wide Array of Colours…
The VinaGARD™ colours we have for you to choose from for all of our Dome™ Shelter units include our most popular natural colours of hunter green, grey and beige, as well as vibrant colours of yellow, royal blue, chocolate brown, white, red burgundy, and black. We offer this colour option as part of our standard package at no extra cost to you!
(Note: Please check with our sales staff for colour availability at time of order to avoid unexpected delays.)


| | | | | | |
| --- | --- | --- | --- | --- | --- |
| | Hunter Green | | Chocolate Brown | | Red |
| | Yellow | | Beige | | Burgundy |
| | Royal Blue | | White (Skylight) | | Black |
| | Orange | | Grey | | |
| | | | | | |

Our Standard Fabric Package…


At Dome Shelter Systems™, our base shelter price offers you a fully enclosed, complete shelter in all our standard sizes. The standard profiles available are dome and gable styles. All main covers of standard dome-style shelters up to 28 ft. wide and all gable-style shelters are manufactured with zippered or curtain door access in front panel, and solid rear panel. For our large industrial size dome-style shelters 30 ft. wide and greater, in addition to the main cover and rear panel, we are offering a curtain door on the front panel and a *5-foot wide skylight down entire length of shelter. Please see Custom Options for further details.



*Please note skylights are available for the VinaGARD™ fabric only.

OUR OPTIONAL WESTERN POLYWEAVE FABRIC

Looking for a more cost effective fabric option and still want comparable reliability?


We offer you our 10.5 oz. industrial grade Polyolefin Fabric for all our standard sizes. This product has comparable durability and safety features as our premium VinaGARD™ fabric and below lists its outstanding features.



ABRASION RESISTANT


This North American manufactured fabric has an abrasion resistant weave that meets stringent industrial ASTM standards for tensile, tear, cracking and burst limits.



FLAME RESISTANT - SAFE TO USE


This polyolefin fabric has a flame retardant HDPE scrim compliant to CAN/ULC-S109 and NFPA 701 flame resistance requirements. In addition, this fabric contains effective UV stabilizers tested to ASTM standards that further prolong the overall life of the fabric cover.



NATURAL LIGHTING


We offer this Polyolefin fabric in a translucent white colour only, ideal for natural lighting along the full length of the shelter. In cases where artificial lighting is minimized to save lighting costs, this is a great alternative to the opaque VinaGARD™ material.



Please contact our Sales Representatives for further information if you are interested in this fabric option.