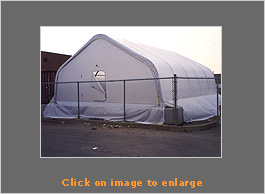 Q: How long will my shelter last?
A:
We use only top quality materials in manufacturing our shelters in order to give the longest life span possible.

The frames are made of structural steel tubes with a premium GalvalumeTM finish. Galvalume™ is an inline continuous hot-dip process - galvanizing both inside and outside of all tubing.

This unique lab tested coating exhibits corrosion resistance over 5 times that of conventional pre-galvanized steel. Unlike conventional hot-dip galvanizing - Galvalume™ is smooth to the touch with a lacquer top coat to prevent cover abrasion. The covers are heavy weight and made of a premium VINAGARD™ membrane with UV inhibitors to ensure maximum cover life.

Q: Can I get the shelter in a size I need?
A:
We have hundreds of different sized shelters available from our standard price list. The sizes range from 8 ft. wide up to 52 ft. The heights range from 8 ft. high to 30 ft. More important, Dome Shelters™ are also custom designed for many unique applications, in any length required.

Q: So what is VINAGARD™ and why is it a premium fabric?
A:
VINAGARD™ is a Canadian made vinyl coated polyester fibre. VINAGARD™ is made by mixing top grade U.V. stabilized pigments with virgin Vinyl resins. This mixture is then coated on to high strength, waterproof, woven polyester. The result fabric is then coated with a washable, ultra-strong layer of Urethane.

This complex chemically engineered product has rot and mildew inhibitors, Ultra Violet stabilizers, flame retardant compounds and special high cost compounds to keep it resistant to very low temperatures.

Q: Will you guarantee the quality of my shelter?
A:
Contact us to find out the latest terms, conditions and warranties for your specific shelter!

* NB: contact us to find out the latest terms, conditions and warranties!

Make sure to look at our "References" list!