The storage and protective uses of Dome Shelters Systems™ are practically unlimited. Use your imagination with our systems and you'll see that "we've got you covered." You'll have no more worries about the condition of your valuable equipment on or off the work site.

The construction shelter is the best alternative to temporary and/or permanent instant conventional buildings. It can shelter your equipment and supplies more economically than renting or leasing a space.

Mobile equipment shelters can provide all weather protection for your valuable Construction equipment. These structures will increase productivity and protect your products. The benefits to your bottomline will bring time and money onto your side.

Construction Shelters can be installed with very little site preparation and no concrete slab or foundation is required. Our temporary construction shelters are quick and easy to erect.

Construction crews use our equipment shelters for material and equipment storage. Since our systems are modular we can adjust to accommodate your construction site as it grows.

Portable work shelters can be used for construction sites no matter the location and our portable storage shelters can be used for all products and equipment. Construction tents can provide field offices and accommodation for crews or equipment storage and are made of the durable VinaGARD™ material. The uses of these construction shelters include protecting your crews and equipment from the elements and securing your valuable products.






Door Options: Steel doors with electric operator are ideal for frequent forklift access. These doors are available in many sizes.

Concrete Block Mount: Acts as crash barrier to protect your shelter from collision, while remaining portable.



Crane lliftable Designs: Reinforced frame with attachments for crane lift. Perfect for multiple concrete pours around your job site.



Ventilation: Powered or passive ventilation is available to control condensation, or fumes.



Installation: Turnkey (full crew and project manager) if you are too busy, or a working supervisor trying to manage local labor. Call for details.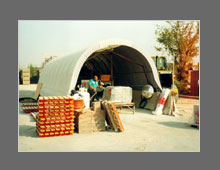 Click on image to enlarge
Application:
Dome™ construction tents and equipment shelters will save you a bundle when the weather turns sour. No more headaches worrying about the condition of your equipment during poor weather conditions.
Our sheltered workshops are portable, so you can take it with you when the job is over. The shelters are more economical in the long run than renting or leasing space.
Application:
Building materials spoilage is a thing of the past when you are in a Dome™ construction shelter.
Keep your perishable materials on site and under cover. So it is ready when you are.
Hundred of sizes available, so you can store anything from a skid of shingles to multiple truckloads of fabricated parts.
Application:
Dome™ Equipment Sheds can be erected on site so you save on haulage costs and equipment downtime.
Whether you are changing the engine or the spark plugs, think of the convenience of having a mobile equipment shelter on site.
Out of sight, out of mind: Deter thieves and vandals by keeping your equipment and supplies out of sight.