Covered walkways can vary according to your needs and the walkway application. We can provide door to door coverage with canopy walkways and temporary shelters. Covered walkways and pedestrian pathways can protect from the elements.

When fitted with a VinaGuard™ skylight, the walkway design can take advantage of natural light.

Airports, tourist areas, corporate centers, train stations, sporting events or shopping malls, can benefit from the use of Dome™ Shelters covered walkways for pedestrian or equipment movement. These walkways can direct foot traffic along a more desirable route to avoid congestion and offer protection from the elements.

Canopy walkways are portable making them an attractive alternative to aluminum covers for walkways. Our covered walkways can also be used for residential applications such as trailer or recreational vehicle walkways.

Whatever your covered walkway application, contact us to see if we can help!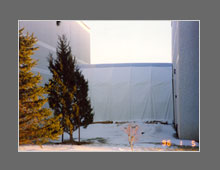 Click on image to enlarge
Application:
Can be configured with slip fit frame for rapid installation
Modular tunnels can be re-configured easily, to meet your changing situation
May be used as roof safety walkways, canopy walkway or pedestrian tunnel
Application:
Custom configuration available to meet your exacting site requirements
Heavy duty construction
Application:
Custom designed and detailed for an attractive, low cost pedestrian solution
Semi-Permanent uses include: pedestrian walkways, heated walkways, temporary wind and weather protection and roof safety walkways.
Application:
Modular tunnels can be made in unlimited lengths.
Wide variety of shapes allows passages as wide and tall as you want
Low Low cost per square foot will keep you within budget!
Other Application:
Student walkways at schools
Sporting Facilities, arena, rink, stadium, etc.
Construction site walkways to protect from construction dirt, debris, noise, and hazards
Unusually large crowds that need protection from inclement weather.
High volume transit facilities