At Dome Shelter Systems™ we sympathize with your plight and provide you with solutions. Whether you're looking for a pre-fabricated storage building, outdoor storage building, modular storage buildings, manufactured storage buildings, a hazardous waste temporary storage facility or hazardous material storage shed, commercial storage buildings or commercial storage sheds, or even a storage building barn we have the shelters you need to meet your material storage systems needs.

We have the specialized environmental enclosure to protect your materials. Whether its cement storage, small part storage, pallet storage and cardboard storage or you're looking for a wood storage building, vinyl storage building, steel storage building, metal portable storage buildings or a metal outdoor storage shed, lumber storage buildings, a farm storage building, portable steel storage buildings, a plastic storage building or an outdoor steel storage shed, Dome Shelter Systems™ has it all.

Our portable storage shelters, providing you with portable on demand storage are available as prefabricated storage buildings or come as equipment storage building kits, which includes outdoor storage building kits and metal storage building kits. Whether permanent (i.e. storage sheds metal) or as temporary storage shelters (i.e. storage portable metal) these outdoor storage buildings can also be adapted as a heated storage facility.

Used as either a backup storage facility or as your primary storage facility, these quality outside storage buildings and environmental enclosures provide you with a fixed or a portable storage building that answers your industrial storage and supply needs. Simply put, our industrial storage units and industrial storage facilities provide you with all your industrial storage solutions for all your bulk storage and portable bulk storage requirements.

Customized sizes available for any application. Call now or request a quote online for your Dome Shelter Solution™!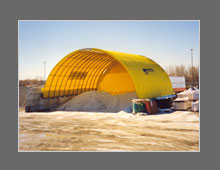 Click on image to enlarge


Protect your Materials from harmful UV, Rain, Snow, and Hail with Dome Shelter Systems™ material storage shelters! If you are looking to buy, rent or build a storage building to protect your investements consider an economical, portable Dome Shelter System™.
Get the job done with a Dome™ Industrial Unit for just a fraction of the cost of a conventional building!


Features and Benefits:
Easy to install
Manufactured in Canada
The Galvalume™ finish steel frame.
We use flame retardant fabric (to CPAI 81, NFPA 701)
5 year fabric warranty* (some conditions apply)
Premium Grade Vinagard™ is available in your choice of 11 attractive colours
Standard Anchors and door in one end are FREE* (some conditions apply)
More economical than building