The importance of recycling goes hand in hand with the quality of the environmental enclosure you store said materials within. Whether you're looking for wood storage, plastic storage, paper storage, newspaper storage, metal storage, aluminum storage and glass storage, or equipment protection via a trash enclosure, diesel generator enclosures, dumpster enclosures and a battery enclosure outdoor, Dome Shelter Systems™ have the outdoor enclosures that will meet your needs.

Designed to effectively protect all materials from the elements, our environmental enclosures have a proven track record as containment facilities, perfect for chemical storage and hazardous material storage. With a proven track record our chemical storage buildings and hazardous material storage buildings are second to none providing you with a weatherproof enclosure outdoor. Essentially, confined disposal facilities.

Convenience is another factor with our products' portability. From our portable generator enclosure and portable recycling collection center to a portable wash pad we have the outdoor enclosure that's needed. And let's not forget recycling and transfer stations and a material recovery facility transfer trailer.

Dome Shelter Systems™ Recycling Enclosures, whether a chemical storage building or a simple enclosure for your basic materials, makes sense - making us your outdoor enclosure generator.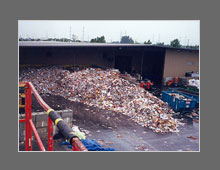 Click on image to enlarge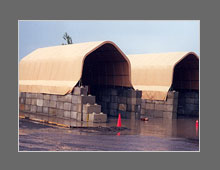 Click on image to enlarge


A Dome™ Sturcture is an efficient and cost-effective way to contain recyclables. Various heights allow for direct dumping. Exclusive concrete block sidewalls provide added capacity and containment. Vinagard™ fabric is impermeable to various agents in recyclables. The structures are, of course, portable, and easily re-erected as required.


Features and Benefits:
Cost effective
Can be shipped and assembled in as little as 2 weeks
Available colour-coding grouped structures for easy identification of recyclables
Built tough, using top quality components
Easily mounted to concrete block walls
Made in Canada