From paint spray booths, automotive paint booths, automotive spray booths, industrial paint booths, an industrial spray booth to a hobby spray booth, home spray paint booth and airbrush spray booths, to sand blast booths, a sand blasting booth, homemade paint booth and a powder coating booth, we have the expertise to assist you in your paint booth plans.

Your auto paint booths and spray paint booths can be permanent or portable. We provide a portable paint booth, portable spray booth along with portable sandblasting. The mobile sandblasting or mobile sandblasting systems may feature sandblast booths for bead blast booth needs.

Spray Booth build your own

Along with our ready-made booth designs, we provide do-it-yourself materials for those with a workshop or workshops (i.e. garage workshop). Your home workshop design may feature spray painting booths, auto paint spray booths, a paint booth home made, a build sandblast booth and so on - all also available ready-made.

At DomeShelter we meet all application needs, from new shelters permanent or portable to used shelters (i.e. used auto paint booths).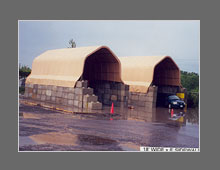 Click on image to enlarge
Features and Benefits:
Modular Kits
Built tough, using top quality components
Flame retardant fabrics
Custom sizes
More cost effective than permanent addition
Quick turn around time - quicker pay back
Add-ons:
Skylights
Heating
Ventilation
Doors for easy access