Sewage treatment involves exposure to a range of potentially harmful chemicals and noxious odors. That's why erecting a shelter designed to handle the rigors of this tough environment is so crucial.

Dome Shelter Systems is the solution to all your storage and environmental enclosure needs. Easy to install, these rugged shelters are flame retardant and can be designed to be suitable as permanent or portable structures.

If your requirements involve manure storage, the housing of a sewage storage tank, sewage odor control, or the storage of raw sewage or sewage sludge, the fully enclosed design and Galvalume™ steel frame will keep the contents from dangerously egressing outside the structure.

Our shelters can also be used for walkway protection over a sewage lagoon or sewage lagoons.

Need to establish a clean storage area? Our shelters provide you with a completely protected oasis within such harsh environments as a sewage treatment plant or complex of sewage treatment plants, a wastewater treatment plant or multiple wastewater treatment plants, or a sewage treatment system of any kind.

Made in Canada, Dome Shelter Systems are built to withstand harsh conditions.


Application: Sewage Treatment Facility
Domes are built to order, so you can request structure features that will suit your needs
Sizes range from 8 - 52 ft. wide and 8 - 30 ft. high for multi usage
Dome Shelters maintains the lowest lead times in the building industry, so your new facility can be operational in weeks instead of months
As a solutions provider, we have sourced a wide range of accessorial products from climate control, to door styles, so you can leave the details to us.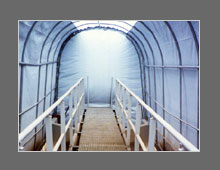 Click on image to enlarge
Options:
Door Options: Steel doors with electric operator are ideal for frequent forklift access. Available in many sizes depending on the warehouse
Door Options: Strip curtain doors are an economical alternative to Steel Doors, if climate control is not an issue.
Concrete Block Mount: Acts as crash barrier to protect your shelter from collision, while remaining portable. Very sturdy
Ventilation: Powered or passive ventilation is available to help control condensation, or fumes. Louvered vents can be custom-fitted to control condensation. This allows equipment warehouses to stay protected
Domeshelters ™ can be located over soil, gravel, concrete, asphalt wood, sludge ponds or lagoons. Anchoring of structures is customized to individual requirements. Screw rod, steel stake, sleeve or wooden anchor systems may be used
Heating units: A wide range of radiant heaters is available, for gas, propane, or electrical heat sources
Insulation: We have a number of different Insulation options to reduce operating cost for climate control
Frames are made with a Galvalume finish that 'lasts 6X longer than conventional galvanized steel"
Dome Shelters are made with "Vingard ", a Canadian-made durable material that is weather, chemical, fungus and mildew resistant and is washable. It can withstand extreme temperatures for outdoor warehouse use. It comes in 11 colors, and may be made with the option of skylights to let in the light for your equipment warehouses. Whether for mobile or storage warehousing, you have lots of choices
Installation: Easy to construct warehouses with rust and tear-proof brass grommets and sturdy, stretch-proof covering and cords
Turnkey (full crew and project manager) if you are too busy, or a working supervisor to manage local labour. Call for details