Your equipment is part of your bottomline. It needs to be in good running order when you need it. That's why when you store your valuable equipment, you need a reliable equipment warehouse. With Dome Shelters, you get convenient installation, dependable service and reliable coverage for your equipment and materials.

With Dome Shelters, outdoor warehouses are more economical in the long run, than leasing, renting or building space.

Our portable warehouses and storage warehouses are easy to set-up and re-locatable, saving you time and money. Your equipment warehouse can be modular as well so that you can move equipment and supplies in short notice.

Whether you are storing equipment, supplies or materials, Dome Shelter Systems has got you covered.





Door Options: Steel doors with electric operator are ideal for frequent forklift access. Available in many sizes depending on the warehouse



Door Options: Strip curtain doors are an economical alternative to Steel Doors, if climate control is not an issue.



Concrete Block Mount: Acts as crash barrier to protect your shelter from collision, while remaining portable. Very sturdy.



Ventilation: Powered or passive ventilation is available to help control condensation, or fumes. Louvered vents can be custom-fitted to control condensation. This allows equipment warehouses to stay protected.



Warehousing can be located over soil, gravel, concrete, asphalt or wood



Anchoring of structures is customized to individual warehouse requirements. Screw rod, steel stake, sleeve or wooden anchor systems may be used



Frames are made with a Galvalume finish that 'lasts 6X longer than conventional pre-galvanized steel'



Dome Shelters are made with "Vingard ", a Canadian-made durable material that is weather, chemical, fungus and mildew resistant and is washable. It can withstand extreme temperatures for outdoor warehouse use. It comes in 11 colors, and may be made with the option of skylights to let in the light for your equipment warehouses. Whether for mobile or storage warehousing, you have lots of choices.



Installation: Easy to construct warehouses with rust and tear-proof brass grommets and sturdy, stretch-proof covering and cords.



Turnkey (full crew and project manager) if you are too busy, or a working supervisor to manage local labour. Call for details.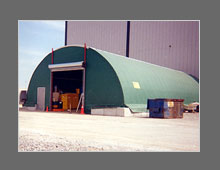 Click on image to enlarge
Application:
Low cost Dome Shelters are weather tight, to preserve your valuable equipment in the warehouse
Wide selection of sizes, door options and custom-made designs means you will not be paying for a bigger structure than you actually need.
Portable modular design is easy to relocate, so when your equipment is disposed of, you can easily re-locate.
Dome quality means built to last so the resale value of your Dome is preserved.
Outdoor equipment storage and portable warehouses are made with "Vinagard, a durable vinyl coated polyester fiber" that has a 5-year warranty.
Application:
Domes are built to order, so you can count on being quoted the right structure for your needs, whether equipment or storage warehouse
Sizes range from 8 - 52 ft. wide and 8 - 30 ft. high for warehousing usage
Dome Shelters maintains the lowest lead times in the building industry, so your new facility can be operational in weeks instead of months